We will keep this page updated with current information about what we are doing to keep everyone healthy across the Trust.
Please note that the Trust is receiving daily updates from the Department for Education (DfE) about the government's response to COVID-19 (Coronavirus). This information will be shared with all students, parents/carers and staff as we receive it.
LETTER FROM CEO - PARTIAL SCHOOL OPENING (Wednesday 18 March, 2020)
Wednesday 18 March, 2020
Dear Parent/Carer
Partial School Opening - From Monday 23rd March 2020
Further to the government statement yesterday I can confirm that from the close of play on Friday 20th March we will close all Academies within Maltby Learning Trust for the majority of students, only remaining open for those children of 'key workers', who would otherwise be forced to stay at home. In line with the Prime Minister's announcement, we will also remain open for the 'most vulnerable children', those with an EHCP (Education, Health and Care Plan) in place, or those who have a social worker supporting them. The scientific advice shows that school settings are safe for this small number of children attending, but asking others to stay at home will just go towards helping us slow the spread of this virus.
The Government has now released a full list of 'key workers' deemed 'essential' to the COVID-19 response and whose children will continue to be cared for at school. Children with at least one parent identified as key workers by the government can send their children to school if required.
Click here to see the full list of Government selected 'Critial Key Workers'.
To support our planning over the coming days and weeks it would be useful if you could contact us as soon as possible if your family falls into any of the categories.
As I am sure you will appreciate the implications of this government decision are far reaching and there are still specific areas in the latest statements to which we do not yet have the full details. However, please be assured that we are in regular dialogue with Leaders within and beyond the Trust to ensure that we continue to provide some form of educational provision for all students, be that in their own home, local school or another location. Also, we are mindful about how we support those young people who were due to sit external examinations or tests in the summer term. It is clear from the latest communications that these tests will not be taking place as planned and we expect further guidance to be released over the coming days about how any teacher assessments will be agreed and validated nationally. We will keep you updated on these developments, but it is vital that the students in Y11 and 13 continue with their studies at home and prepare for any internal assessments that may be conducted in the summer term.
I would like to reassure you that staff have invested significant time preparing for this eventuality and plans are in place to ensure every student can access learning resources every day during the closure period. Most of these resources can be found on the school website or via specific learning platforms signposted from the website. I would ask you to work closely with your son/daughter over the coming days and weeks to structure their time during the day to support their continued studies. Please be assured that the leaders and staff in school will continue to be available for contact via specific group email addresses listed on the school website.
Finally, as a Trust we are concerned about the impact of coronavirus (COVID-19) on students who are currently eligible for benefits-related free school meals. At this time we are keen to continue to provide access to a meal for all those children who would normally benefit from this provision in school. Therefore, each school will provide these children with a 'grab bag' meal available for collection from their local school. Please see the academy website for more details.
I would like to thank you for your continued support at this time and remind you that we will do everything possible to support you and your family through this challenging period. Please note that the current situation is constantly changing and Leaders in the Trust will keep abreast of this and adapt our response accordingly. We will ensure that the communication lines remain open and we will provide regular updates via the website and Twitter feeds.
Best wishes, and I hope you all stay safe.
Yours sincerely
Mr D. Sutton
Chief Executive Officer
Maltby Learning Trust
ON-SITE PROVISION FOR KEY WORKERS
In line with the latest Government Guidance for schools and educational settings, if children can stay at home safely, they should wherever possible. This is the best way we can limit the chance of the Coronavirus spreading. The fewer children in educational settings, the lower the risk that the virus can spread and infect vulnerable individuals in wider society.

That is why we are asking that you only complete the booking form and send your children to school should they absolutely need to attend. We thank you in advance for your continued support on this matter.
Guidance on Key Workers
The situation nationally is becoming increasingly serious. Social distancing and protecting the NHS and key workers has placed teachers and schools in the front line. Few people will come into contact with others in the same way teachers and support staff will. If we close our doors, our health service and other critical services will quickly become over-stretched.
However, we need to take emergency steps to reduce the spread of the virus. We need as many people as possible to avoid sending their children into school. This will protect children and staff. NHS staff, emergency service staff, and key workers, we are proud to stand shoulder to shoulder with you and will welcome your children into our schools, providing meals, education, entertainment and support.
To other parents please support us and follow the government guidance around key workers.
NOTE - The message clearly states that every child who can be safely cared for at home should be. Parents should do everything they can to ensure that their children are not mixing socially in a way which can continue to spread the virus.
Examples of key workers include:
• NHS staff.
• Fire service, Social care, Police, care homes, etc.
• Supermarkets, Food warehouses or transport for food.
• Farm workers, vets, etc.
• Delivery staff, postal workers, pharmacy staff.
• Utility staff electric, gas, water.
NOTE – Even those above may be able to look after their children if their shift patterns allow or their partners work from home or is not a key worker.
Examples of non-key workers:
• McDonalds, Costa takeaway, Greggs, etc. – not key workers. Takeaways are not essential, especially when we are asking as many people to stay home as possible.
• Retail, not related to food – not a key worker.
• Builders, construction workers – not key workers unless directly working in critical areas above (building hospitals, repairing railways, etc.)
NOTE - We may be asking for confirmation from your employer that you are a key worker and possibly shift rota evidence. Also, we may be asking about partners or others in the home.
Please understand, this is emergency support. If we want to maintain this and reduce the spread of Covid-19, we need your help.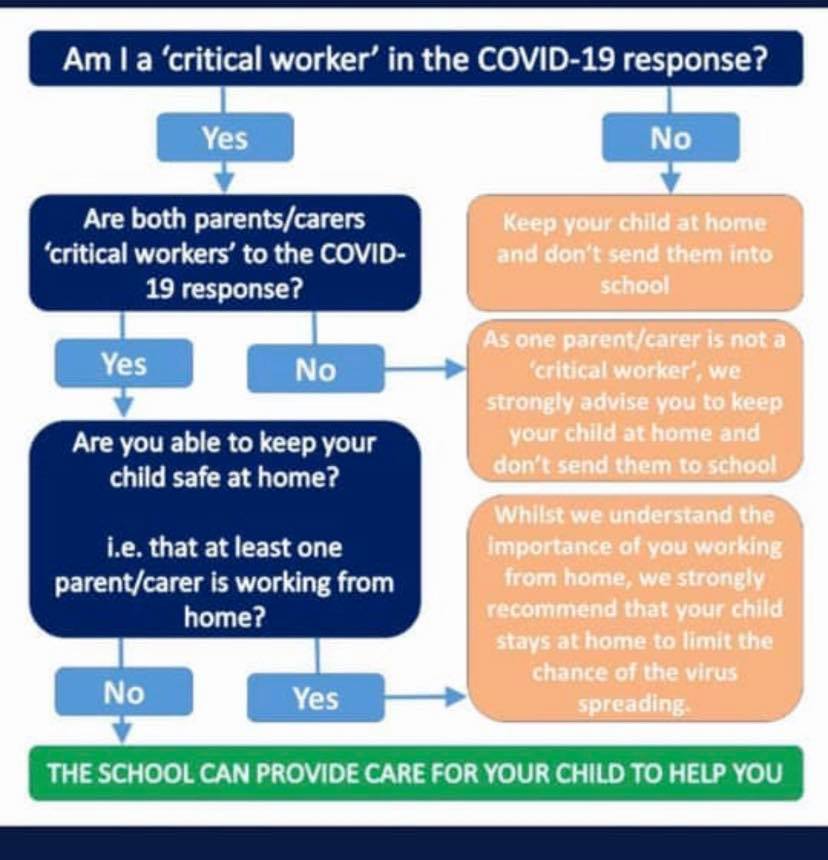 ARRANGEMENTS FOR FREE SCHOOL MEALS
From Monday 20th April 2020 the Trust will be moving to the Government FSM e-voucher scheme. The e-vouchers can be redeemed for food in many of the local supermarket stores. Every pupil eligible will be automatically registered for the service. You do not need to contact the Academy in order to activate this service.
E-voucher codes will be distributed by the Trust to the eligible families using their registered e-mail address. These will be e-mailed to eligible families every Monday. If the school does not have a current e-mail address for a family, the appropriate gift cards will be posted on Monday (allow 3 days for delivery). Please contact your local school immediately if your email address requires updating.
The E-vouchers can be redeemed against several supermarkets including: Asda / Tesco/ Sainsbury's / Morrisons
Parents and carers simply need to present their e-voucher on a smartphone/tablet upon payment, or print out the e-voucher and present this at the till in-store. Some e-vouchers can be redeemed online.
WHAT WILL HAPPEN WITH EXAM RESULTS THIS SUMMER?
Since the Secretary of State announced that the 2020 exam series in England would be cancelled to help fight the spread of coronavirus (COVID-19), Ofqual has developed a process which will fairly recognise students' work and make sure that they get their grades in time to progress. Ofqual has today set out how GCSEs, AS and A levels will be awarded this summer and published further guidance for education staff, students, parents and carers.
For this summer's awards, schools and colleges are being asked to provide centre assessment grades for their students. These should be objective and carefully considered judgements of the grades schools and colleges believe their students would have been most likely to achieve if they had sat their exams and should take into account the full range of available evidence.
Guidance from Ofqual on how qualifications will be graded and awarded in summer 2020 can be found here:
www.gov.uk/government/publications/gcses-as-and-a-level-awarding-summer-2020
Ofqual has published a message to students to reassure them that they, and exam boards, will do everything they can to make sure that, as far as possible, grades are fair and that students are not disadvantaged because of this unprecedented situation.
A message for all GCSE, AS and A level students this summer

3 April 2020

I understand how unsettling the past weeks have been for you, since the announcement that exams have been cancelled this summer, and that you are urgently waiting for news. I wanted to let you know what we are doing to provide you with grades. Our over-riding aim in this is to be fair to students this summer and to make sure you are not disadvantaged in your progress to sixth form, college, university, apprenticeships, training or work because of these unprecedented conditions.

How will grades be calculated?

Your school or college will be asked to send exam boards two pieces of information for each of your subjects, based on what they know about your work and achievements:

the grade they believe you were most likely to get if teaching, learning and exams had happened as planned
within each subject, the order of students at your school or college, by performance, for each grade. This information will be used to standardise judgements – allowing fine tuning of the standard applied across schools and colleges.

Your school or college will consider a range of things like your classwork and homework; your results in assignments and any mock exams; any non-exam assessment or coursework you might have done; and your general progress during your course.

This information will allow us, with exam boards, to standardise grades across schools and colleges, to make sure that, as far as possible, results are fair and that students are not advantaged or disadvantaged because their schools or colleges are more generous or harsh than others when making those judgements. That means the final grade you get could be different from the one your school or college sends to the exam board.

Do I need to complete any new work for my school/college to submit a grade?

Your school or college is not required to set additional mock exams or homework for your centre assessment grade, and you won't be disadvantaged if you were not set, or were unable to complete, any work given out after schools were closed.

Can I see the grades my school/college submits for me?

No, this information will be confidential. Please don't ask your teachers, or anyone else at your school or college, to tell you the grades they will be sending to the exam boards or where they have placed you in the order of students; they will not be allowed to share this with you.

When will I get my results?

We're working hard to get results out as soon as is possible – results won't be delayed after the dates they were expected in August, and ideally they will be issued a little earlier, so you can have the certainty you need.

Can I take my exams another time?

We are working with exam boards to offer additional exams in the autumn term as soon as it is possible to do so. We'll let you know about these in the coming weeks.

Please be reassured that the grades you get this summer will look exactly the same as in previous years, and they will have equal status with universities, colleges and employers, to help you move forward in your lives as planned.

Sally Collier

Chief Regulator, Ofqual
EDUCATIONAL SUPPORT WHILST SOCIAL DISTANCING
All of our Academies within Maltby Learning Trust are providing resources and learning support for children who are self isolating.
Please visit your child's school website to access the information.

Rotherham Council Learning Support Service have put together a list of resources which may help if your children are learning at home:
See the list here.
SEND Educational Support:
The Local Offer has resources for children with SEN, including advice to parents and children who are at home: www.rotherhamsendlocaloffer.org
HELP PREVENT THE SPREAD OF INFECTION
There are general principles anyone can follow to help prevent the spread of all respiratory viruses, including Coronavirus:
Wash your hands for at least 20 seconds with warm soapy water.
Washing your hands often - with soap and water, or use alcohol sanitiser if handwashing facilities are not available. This is particularly important after taking public transport.
- Watch this short NHS film for guidance
- Teach young children how to wash their hands with the NHS handwashing

Pupils, students, staff and visitors should wash their hands:
- before leaving home
- on arrival at school
- after using the toilet
- after breaks and sporting activities
- before food preparation
- before eating any food, including snacks
- before leaving school

Covering your cough or sneeze with a tissue, then throwing the tissue in a bin. See Catch it, Bin it, Kill it
People who feel unwell should stay at home and should not attend work or any education or childcare setting
Use an alcohol-based hand sanitiser that contains at least 60% alcohol if soap and water are not available
Avoid touching your eyes, nose, and mouth with unwashed hands
Avoid close contact with people who are unwell
Clean and disinfect frequently touched objects and surfaces
If you are worried about your symptoms or those of a child or colleague, please call NHS 111. Do not go directly to your GP or other healthcare environment
STUDENT WELLBEING - SUPPORT FOR FAMILIES
Maltby Learning Trust understands this is an unsettling time for all members of our community but that parents/carers may be additionally worried about their child's mental health and emotional wellbeing.
If you are very concerned about your child's mental health and emotional wellbeing we would always advocate that you consult with your child's GP and that you access A&E services if you feel emergency help is needed. However, Maltby Learning Trust is continuing to provide mental health and emotional wellbeing support during this time.
Rotherham MAST will be offering mental health and emotional wellbeing telephone support during the coming weeks while schools are closed to the majority of students. As ethically trained Counsellors, the Rotherham MAST Mental Health Specialists have been mindful of guidelines issued by the British Association for Counselling and Psychotherapy (BACP) in respect of knowledge of psychological and operational processes relevant to telephone interventions.
To receive an initial telephone call to discuss your concerns further, please email your child's academy stating MENTAL HEALTH AND EMOTIONAL WELLBEING SUPPORT in the subject line.
Please see the full document here.
Please visit www.maltbylearningtrust.com/mast for more information about our MAST service.
KEEPING IN TOUCH
It is important to remember that we are all part of the same community and that we find any way we can to stay connected to each other.
We will aim to send out regular communications responding to frequent questions we have received, informing you of any developments that we are made aware of and sharing important updates with you. However; the best way you can stay up to date and in touch with us is by following our Twitter Account @maltbylearning. On Twitter we post regular updates and share important information as it is received.

We would like for Twitter to become a forum through which you can share updates with us about how your children are spending their time during the school closure period, celebrating any amazing work they complete, or posting hints, tips and tricks they may have for getting through the coming weeks at home.

PLEASE MAKE SURE YOU TAG US IN ANY POSTS (@MALTBYLEARNING) OR USE #MLTCOMMUNITY IN YOUR POST.